Engage the imagination, Change the belief.
Here is a belief change process that is quite cool that I came up with today. It hasn't been coded yet into a "ready set and go" technique but for the intermediate to advanced hypnotists and NLPers out there, you will find a lot of great things to use in this. This is best done when you have already elicited the limiting belief, and the resourceful belief that they want to replace it with. Enjoy.
The Process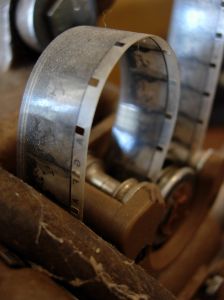 The setting is that your beliefs or thoughts are like a transparency that's been put on a projector in a room… so that when you flip the projector on, it appears to light up kind of big on the screen, right? [Get them to agree, this is leading] It SEEMS real, right? [This is distancing them from it]
But you know that in reality that someone wrote those words on there, or put those pictures up there, and you could actually just erase them and start over. So imagine your limiting beliefs that you want to change being up there, and you know that since they are on a projector, that they have a bit of transparency to them, they are just light being projected.
Now these beliefs, of course, are very old, and dusty, aren't they. [Tag question] Maybe they have fingerprints on them, or maybe the pictures are faded, or the words are partially erased from being written in that whiteboard marker that wipes off so easily.
And you know that at any time you could flip on the lights and that the projector would not be the only thing you would be focused on, and if the projector turns off, then you become aware of the rest of the room. And so up until now you have had those beliefs [Notice the changing of tenses here to put the beliefs in the past] up there, and they were up there shining pretty brightly and kind of taking over your attention … but you know at any time you can go ahead and flip on the lights in the classroom [Command], and realize that you are still learning.
Note: this is a metaphorical shift; we started off with a projector, then I added in that it's in a room, then a classroom.

From being in a classroom we know we have the classroom lights and the projector lights, and if you turn on the classroom lights then it becomes obvious that the projector is no longer real. When we are in classrooms, we learn things. So I'm framing the whole process as a learning experience.
And if before those old beliefs start to fade away the lights turn on [Command and leading language], then you can grab the old transparency of those old beliefs and spray it with some solution to remove all the dust and grime, and maybe some of the old beliefs start to smudge as well, or maybe they wipe off all at once. Then find the trashcan and throw away that transparency, and take a new one out of the pack that is completely clean and free of smudges.
Now if you take the time to think about what would be better things to believe, notice if it is something where the better images immediately pop into place on the projector and you believe it just as strongly, or if you need to first dim the lights before the new images come up and they start to entrance you. [Double Bind]
So make sure that the new beliefs are just the way that you want them, and then you can dim the lights and start to play the pictures on the projector. Maybe they are moving pictures and you start to dream about how nice it is to believe these things, having had made these changes [Hypnosis Language Patterns]
Notes and Comments
If you wanted to you could easily make this into a more action-step type of process. The way I discovered this was by talking one of my clients through a changework process in which they had wanted to change some beliefs. They wanted to use a submodality swish, but they didn't seem to be having much luck with it, so I came up with a new metaphor: the transparency on the projector.
There are lots of other things you can play with in this. I purposefully picked a transparency, because one of the visual submodality shifts is whether or not an image is solid or transparent. So if the client wasn't quite getting it, I could easily go back to making the old beliefs transparent. And if I wanted to concrete the new beliefs, I would have them go back to being completely focused on the projection of the transparency, and have them step into it, making it real and solid.
By changing the context of what is happening, I make a shift between "old beliefs" (transparent / projector) and "new beliefs" (real and solid) … there's also some great stuff in there about how they are always in a classroom, which means they are always learning, and so if they are learning then they can't possibly have old beliefs (which were just written on a transparency with magic marker) to be somehow "stuck" there… instead we can spray solution on it, erase the old beliefs, smudge them, and do whatever to do them, because they are only a transparency…
Get the structure? 🙂 I really like this one. Try it out and leave a comment to let me know how well it worked for you!