Recently I attended a hypnosis training by Sean Michael Andrews, and right before the lunch break on one of the days, I convinced him to let me a take a sneak peak of one of his new products that has just come out, "Deepening the Trance."
Sean didn't want to release it into the wild at that point, but when we promised to keep the contents confidential until its debut, he finally gave in and our group got to view the DVD in its entirety. With only a select few of us in the room, he loaded up a projector attached to his Alienware laptop, and pointed it at the wall where you might have seen his huge dark-blue "Worlds Fastest Hypnotist" banner.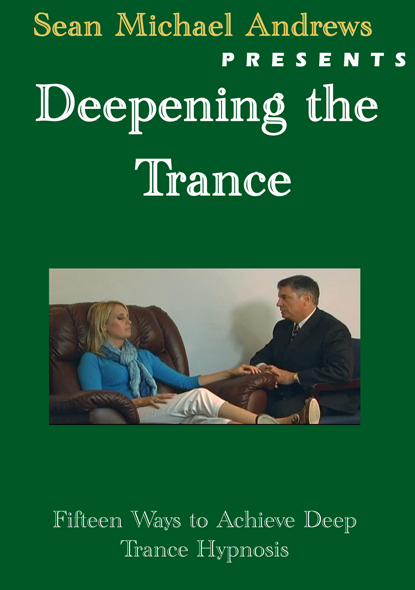 Roll 'Em, Jimmy
As the movie queued up, what I saw exceeded my expectations and it looked like it came from a Hollywood camera crew. This DVD is professionally shot and edited, and features rich menus with studio quality sound. When the title screen came up, I was already pretty excited about it just because of the intro.
The first shot you see in the DVD is of Sean teaching at a seminar where he is about to demonstrate a trance. Sean starts out with a conceptual overview of what it means to deepen the trance and includes some things that you may not have known. He then calls one of the attendees up to the front of the room, and does the first deepening technique, the Vogt deepener.
You're Going Deeper, and Deeper…
Each deepener is a collection of clips of Sean's clients, with the same deepener being demonstrated. Each of the clients is shown going deep into hypnosis and there are visible responses in their eye flutter, facial mask, and breathing as they respond to the techniques.
I already knew a few of the techniques from working with my own clients, but I was very surprised that he slipped in some that I hadn't even heard of but that turned out to be very effective. When I talked to Sean, it turns out he actually researched this, found the most powerful techniques and stuck them all in one video. Cool.
Now open, and close your eyes all the way down
The main scene in the video is a demonstration of all of the inductions at one of his hypnosis classes. Then for added emphasis, the video will transition to other footage he has of him doing the deepeners, including a lot of footage from his private clients.
As usual, Sean has showcased what a great area he lives in, because a lot of his clients are attractive young women! Check this blog often because when I find out his secret, that's it, we're all packing up and moving to Sean's neighborhood.
What could be better about this DVD?
Because there are so many clips being switched in and out, sometimes the video and sound quality is not as great in some of the clips from clients that he has switched in. Sometimes the video got a bit fuzzier, and the sound quality on one of the clips (about a minute and a half long) was noticeably noisier in the background.
All in all though, this is a minor complaint and in the context of the whole video it could hardly be seen as a big problem. To be honest the clips that are a little louder are only about 5% of the entire video so it's not that big of a deal. I think Sean chose to put these clips in because they actually add to the substance of the video and give more examples.
Conclusion
I really enjoyed this DVD because it includes a lot of great techniques, and includes many different people for examples which I know from doing my own DVDs are not always easy to get.
The great thing about this type of video is that you finish watching it feeling like you've really learned something, which is exactly what I was hoping for. Since Sean has been doing this for years, he has an incredible base of people that support him, which I know will only help him with his future products and ventures.
In short I have to recommend to all the loyal readers of this blog to click below and get this DVD. It includes great explanations and demonstrations of the 15 deepening techniques, and I know I would be very excited to get it in the mail.
I'd also like to thank Sean for allowing me to review this great new product, as we've become good friends and have had a lot of fun together doing street hypnosis (another story for another day!)
Get your DVD here:
Deepening the Trance by Sean Michael Andrews