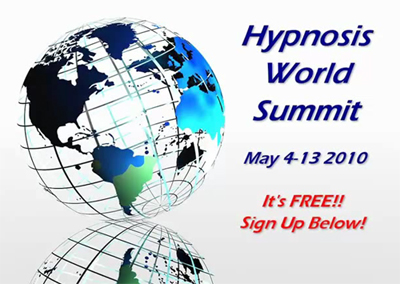 Imagine an absolutely-free hypnosis training, all through the comfort of your own home, that lasts 10 days with over 20 of the top self-hypnosis and personal change experts in the world presenting lessons to you while you relax with a cold beverage in your favorite easy-chair…
Welcome to the Hypnosis World Summit.
My friend and fellow hypnotist Tom Nicoli (who, if you're familiar, is the creator of World Hypnotism Day) e-mailed me recently to let me know of a great event coming up called the Hypnosis World Summit.
If you have heard of names such as Paul Scheele, Jerry Kein, Tim Brunson and Dick Sutphen (all speakers at the event), you know that these people -always- produce quality no matter where they are, and they are going to make this event really shine.
The Hypnosis World Summit event is 100% virtual and online, and includes many topics about how to use the tools of hypnosis to grow our lives in many ways, like:
How to get relief from physical pain and discomfort
How to open the door to attracting abundance into your life
How to end unhealthy eating patterns to lose weight
How color can influence your life and how to use it to your advantage
How to improve study skills and academic results
Ways to manage your life more easily and relieve tension and stress
And much more…
That's something worth checking out! Here is the link to the hypnosis summit:
Tom Nicoli's Hypnosis World Summit